1. How many Belgians do you currently own and are you expecting any foals for 2011? If so who is the sire? We currently have 14 Belgians, including foals. This year our foals are all sired by our herd sire Kandy's Prince.
2. Are members of your family involved? Yes, the whole family is involved one way or another.
3. Where is your farm located? We are in Mountain, Ontario which is south of Ottawa, between Kemptville and Winchester.
4. When you go to buy a horse, what is most important to you? We don't buy a lot of horses, but when we do, we feel that the whole picture and overall quality is more important than any single trait. It really doesn't matter how tall a horse is or how big a shoe someone stuck on it's foot, if there isn't more than one thing about a horse that stands out, then we would leave it where we found it. We like our horses to have presence, be well balanced and more on the fancy end of the spectrum, with smooth joints and legs, a good length of neck, good bottoms, smooth action and body parts that flow easily together. We also value a good disposition & brains. We have 2 young kids in the barn all the time, and really don't need horses that are dangerous.
JAMES DRYNAN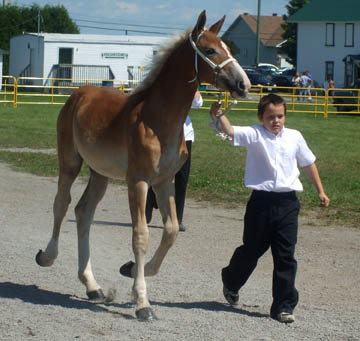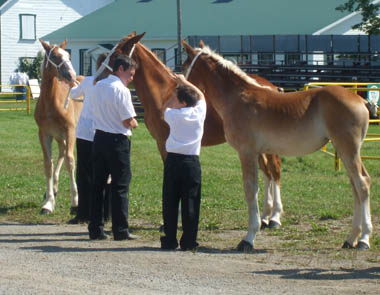 5. Do you think judges should give reasons for their placing? I think this is a difficult question, and the answer isn't a simple yes or no. We often hear this question discussed with reference to how cattle judging is done. However, we do not have the breed standards, animal scoring, judging schools and licensing system that the dairy industry uses. I personally don't want to see judges give reasons unless the whole system is in place with a large emphasis on the training component. As those who have been involved with 4-H probably know, there is a proper way to give reasons, and I really believe that some sort of standard would need to be followed. Really, you should be able to watch a class and follow the judge based on his/her choices. If you can't make sense of how they placed the class and why, I'm not so sure that the explanation would hold a lot more water than the placings do.
6. Biggest challenge of getting a horse ready for a show?
Other than having 2 very busy kids to look after as well? :) Probably the biggest challenge is fixing your mistakes. It seems that it's always quicker and easier to mess things up than it is to fix them, especially when the mistake is made at the last minute before a show.
7. What one thing would you like to see changed most about how Belgians are shown? The thing I like the least about the show ring is the bickering about halter vs. hitch. You will hear people say that halter classes are like watching paint dry and that hitches are what draw the crowds. From the halter perspective all the hitches really do is go around in circles, sometimes more like racehorses or a herd of goats and less like driving horses, with less emphasis on quality than there could be. It seems there's more focus placed on soundness and quality in the halter ring, and these are both attributes that will hurt the hitch horses if forgotten about. On the other hand, the excitement of the hitches does attract public interest and the corporate sponsorship money that is needed to support the shows. I really believe the hitch and halter classes complement each other, one isn't more important than the other, and they need each other, and the exhibitors need to get along with and respect each other for the industry to continue to thrive.
8. We all would like to see a stronger horse market. Do you have some suggestions on what you would like to see the CBHA do to help promote Belgians? a. Anything the CBHA can do to attract more new people to Belgians would definitely be beneficial to us all. Not every horse is a show horse and it's important that those who don't participate in the shows feel that the CBHA has something to offer them. For those looking to buy a horse, there are other options out there, and we need to be sure they see the versatility and value of the Belgian horse.
b. As well as attracting new people, membership retention is very important. I think the CBHA has to be very careful that all current members feel they are being treated with equal consideration. Any award/promotional programs sponsored by the CBHA must be transparent to all and not appear to only be helping the few
JAELYN DRYNAN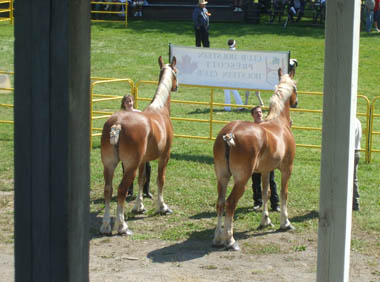 x
people that are running it. For example, the All-Canadian is a great venue for promoting our horses, and I would like to see it continue and grow. However, I've never been to a show where it was considered acceptable for a person to judge their own horse by secret ballot. I see no reason the judges' scorecards shouldn't be published (at least on the website), and perhaps even a rule in place so that you cannot judge yourself. This might lead to more participants if they feel they are being judged fairly and also more credibility for a great program. There is nothing that will cause us to lose supporters of the breed faster than the appearance of a closed-door club.
c. Continue to promote our Canadian Belgians to our American friends. The Americans do a great job of promoting themselves and their horses. We need to make sure they don't forget we're up here, and not all that far away, when they're looking to make their next purchase.
9. What are your favorite hobbies? Belgians, Belgians, Belgians.
10. What is your favorite meal? Canadian steak, baked potatoes, caesar salad and earthquake cake.
11. Who is your favorite entertainer? The radio in the barn is always tuned to the local country music station.
12. General Comment: As much as we really enjoy our horses and competing with them at horse shows and fairs, the best part of all is the many friendships they've started over the years.